Stop Bad Bots Plugin is a wordpress plugin to improve security and stop Bad Bots from stealing you.
To install this plugin, you need WordPress 4.0 or newer. 
Useful links to get you started on Wordpress Installation
After that, you can go ahead...
For the Demo video, click here.
WordPress Plugins are composed of  scripts that extend the functionality of WordPress.
The installation of this plugin is similar to all the other WordPress plugins.
You can find more plugin's info in this link.
Installing the "Stop Bad Bots" can be done:
a) Through Wordpress Dashboard
    By searching for "Stop Bad Bots" via the "Plugins > Add New" screen in your WordPress dashboard;
b) Or
Download the plugin
Log into your WordPress Admin area
and Upload the ZIP file through the 'Plugins > Add New > Upload' screen in your WordPress dashboard.


or
 
c) By FTP
Extract the zip file and just drop the contents in the wp-content/plugins/ directory of your WordPress installation.


Then activate the Plugin from Plugins page.
At your plugin's page, just click over the update link.
Dashboard => Plugins =>StopBadBots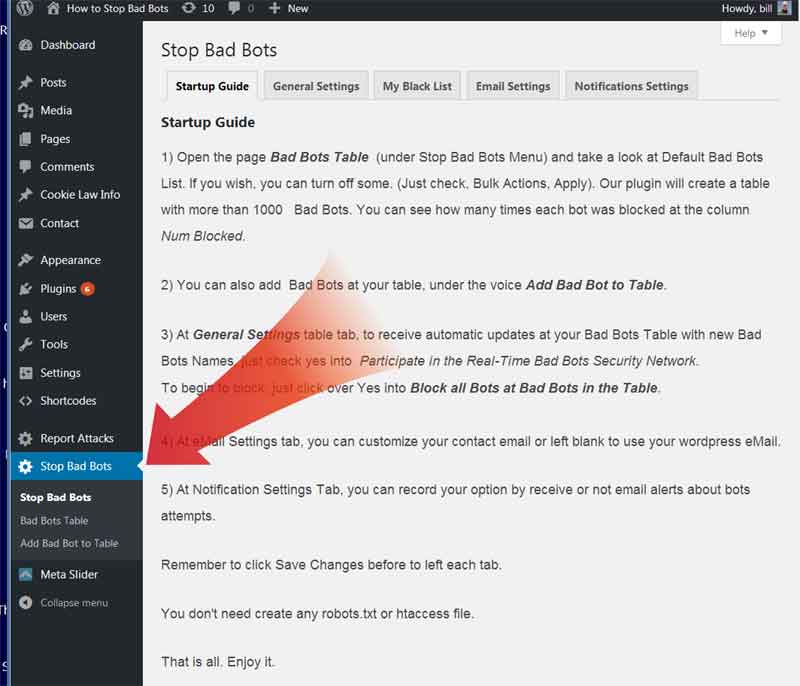 1) At eMail Settings tab, you can customize your contact email or left blank to use your wordpress eMail.
2) At Notification Settings Tab, you can record your option by receive or not email alerts about bots attempts.
3)  Open the Plugin General Settings Tab and click over Yes  (to begin to block).
Remember to click Save Changes before to left each tab.
Memory CheckUP:
Take a look if your system have free memory available and follow the instructions if necessary. 
To manage the plugin, go to your dashboard and click Stop Bad Bots to open the Setting Page.
You can choose:
StartUP Guide
General Settings
Email Settings
Notification Settings
Memory CheckUp
General Settings:
Block all Bots at Bad Bots in the Tables
You need only check yes or no below. All Bad Bots enabled at default Bad Bots Table will be blocked.
Same thing for Bad IPs table. Some bad bots use fake or blank User Agent. Then, we need block them by IP. 
Then click SAVE CHANGES. 

Participate in the Real-Time Bad Bots Security Network
Enabling this feature causes your site to anonymously share data with Stop Bad Bots on Bad Bots visits. In return your WordPress site receives updates at your Bad Bots Table with new Bad Bots Names.
No personally identifiable data is sent and we also do not associate any of the data we do receive with your specific website. The data is aggregated on a real-time platform to determine which Bots are currently engaged in negative activity and need to be blocked by our community.
eMail Settings
Fill out the email address to send messages.
Left Blank to use your default Wordpress email.

Then, click save changes.
Notification Settings
Just check yes if  you want receive email alerts for each bot attempt.
Remember: if you under bruteforce attack, you will receive a lot of emails.
Memory CheckUP
Take a look if your system have free memory available and follow the instructions if necessary. 
To manage the bots tables, go to:
Dashboard => Stop Bad Bots => Bad Bots Table
or
Dashboard => Stop Bad Bots => Bad IPs Table
Then, you can Activate / Desactivate some bots/ip if you want.
You can choose the quantity of rows to show. Just click over the Screen Options button at top right corner of the screen.
You can see how many times each bot was blocked at the column Num Blocked.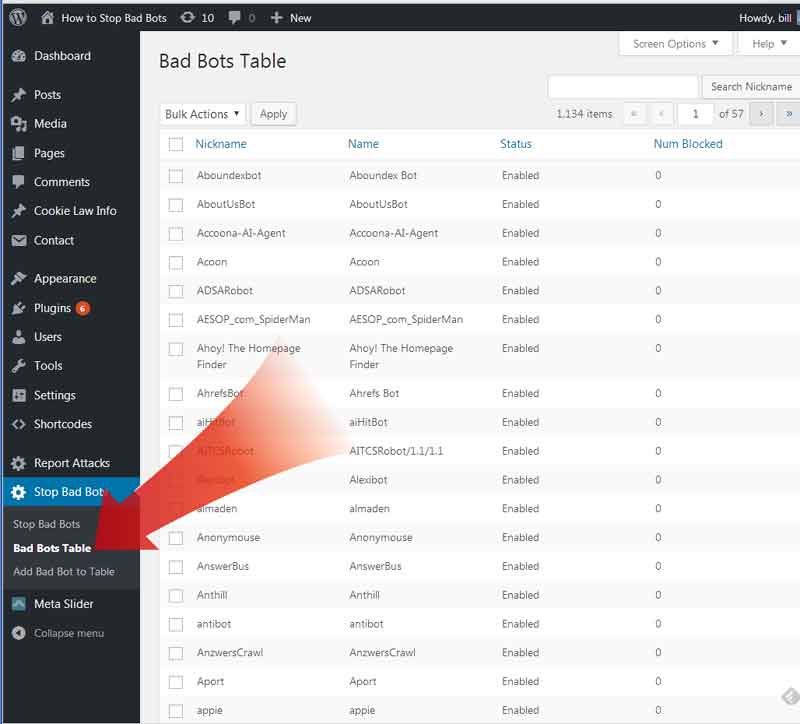 To add a new bot, just click 
Dashboard => Stop Bad Bots => Add Bad Bot to Table
or
Dashboard => Stop Bad Bots => Add Bad IPs to Table
 
We have a language file ready to you translate this plugin for your language.
You can find the file at:
/wp-content/plugins/stopbadbots/language
the name of the file is stopbadbots.pot
Please, contact me about that (contact page).
In this moment, we have only  English language.
To change your site language, go to (dashboard)  Settings => General => Site Language.
Since WordPress 4.0 the "WPLANG" constant is deprecated and should no longer be used, therefore removed from "wp-config.php" file.
Premium Features
The free version update your database 3 times by year. 

Get Premium and receive, automatically, weekly updates.

Help us to keep the bot database updated.
This is the URL to order the premium:
https://stopbadbots.com/premium/
After order, you will receive an email with the purschase receipt and the Purchase Code.
Copy and paste the Purschase Code to the field Purschase Code. Look the picture below: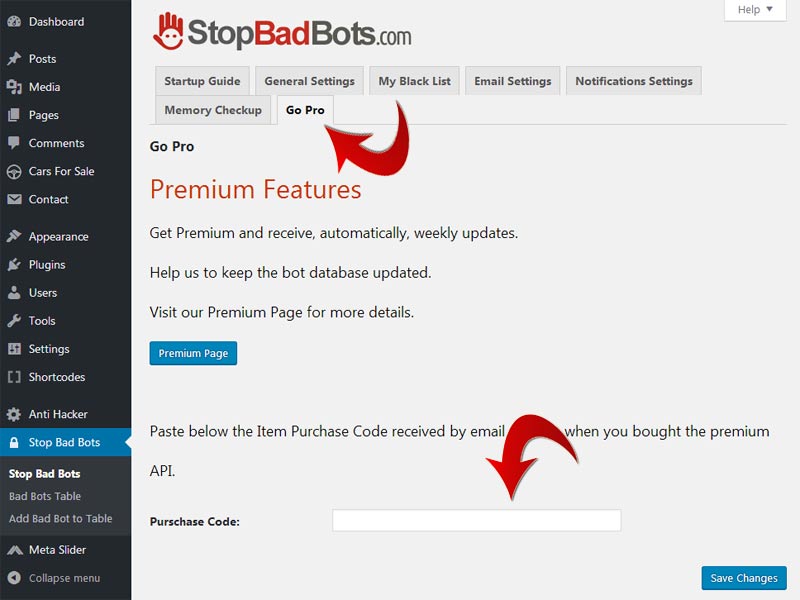 You don't need reinstall the plugin.
Important: Remember to enable the "Participate in the Real-Time Bad Bots Security Network" 
Dashboard => Stop Bad Bots => General Setting Tabs
Our Firewall protects your site against malicious URL requests.  It  checks all incoming traffic and quietly blocks bad requests containing nasty stuff like eval(, base64_ and so on.
100% Plug-n-play functionality
No configuration required
Blocks a wide range of malicious requests
Scans all incoming traffic and blocks bad requests
Blocks directory traversal attacks
Blocks executable file uploads
Blocks SQL injection attacks
Scans all types of requests: GET, POST, PUT, DELETE
You can activate notifications to receive emails with details about requests blockeds.
Firewall is available only in Premium (or pro) version.
Avoid Problem with RSS FEED, smartphone or tablet APP OR some API
StopBadBots it is a powerfull tool. Then, like all tools it is necessary to use carefully.

Open the page Bad Bots Table (under Stop Bad Bots Menu) and take a look at Default Bad Bots List. If you wish, you can turn off some. (Just check, Bulk Actions, Apply). Our plugin will create a table with thousands of Bad Bots.You can see how many times each bot was blocked at the column Num Blocked. Click the title (Num Blocked) to order by.
Check the bot's table frequently, especially in the first days.  You can also receive emails to help you. Just go to the notifications tab. Confirm if you want block all that bots. Maybe you want unblock Baidu, Yandex, Seznam or another search engine in your language or some social sites, if they are usefull for you.

If you use RSS FEED services, probably they have their bot to read your feeds. Remember to deactivate their bot. Same thing if you create some smartphone APP.
If our plugin is active and you can see bots hitting  your statistic tool, please, read below:
If the user agent contain the nickname (or match the IP), our system show – version 5.28 or bigger – to them one 403 Forbidden screen. Then, in your statistics like webalizer or visitor metrics, for example, you can see status 403 (forbidden) and 0 bytes.
Try to disable our plugin for a whole day and control  your bandwidth usage.
Our plugin can protect only wordpress files. Check if you have non wordpress files in your site. Check if this bots not is hitting robot.txt, sitemap.xml and others files.
Try to control your bandwidth also with another tool, maybe WHM panel.
You can use linux wget to test if our plugin it is working. Try to access your site with wget from a linux machine. for example: Open linux terminal and type
wget https://www.yoursite.com 
You will get one empty file. Then, nothing was downloaded. The protection it is working but your statistical tool will show one hit. You saved bandwidth and no data was stolen.
Visit our troubleshooting page.
A "conflict" is something that occurs when two plugins or a plugin and a theme are incompatible with one another. Testing for a conflict is important because they maybe can often be fixed, but only if the true nature of the conflict is known.
Should you have any questions that are beyond the scope of this help file, please you can submit a support ticket. (guest ticket available)
When creating a support ticket, try to explain as clearly as you can the issue you are having and what you were trying to do when the problem occurred.
don't forget to provide the link to your site, wp-admin and FTP credentials. 
Our support guys will get back to you as soon as possible.
The StopBadBots support center works Monday through Friday.
Thanks a lot for using this plugin. Hope you found this documentation helpful. Please support this product by giving your ratings and testimonial.
With best wishes
Bill Minozzi
www.StopBadBots.com